Whiz Kid
6-year-old Gelding
We have had an abundance of windy days this year in Garner Valley and I do mean WINDY and on one such day I was riding Whiz into my arena for a workout. As soon as we opened the gate he began to spook in a very big way – I kept disengaging his hips and moving his feet in different directions to get his attention back but he was unraveling emotionally. The object of his fear was a tarp that I had slung over my arena fence that was flapping noisily and wildly in the wind.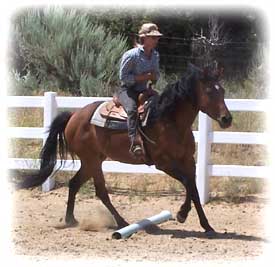 Sheryl & Wiz Kid Bridleless

I'm so amazed at the heart of this horse – something that he was so terrified of – now look at him.
What a Champ!
Note: In the picture on the left, Sheryl is riding Wiz Kid bridleless!